iOS 14 Unique Update
Apple launches a brand new update to users featuring the hottest new advancements
It has finally come. On Sept. 16, the newest iOS update arrived. Iphone users find this new update more convenient as the iOS introduces exciting tools. Although completely optional to upgrade to the iOS 14, Apple users do not regret making the decision to do so. It is so simple to acquire. All users have to do is download it for free. By allowing new advantages this update offers, it is believed that this is the best update from iOS in many years. This new update provides users with the navigation tools to remove apps from the home screen, eliminate screens, and much more.
If one desires to delete an app or even edit the entire home screen, all that needs to be done is a simple click of the app and the homescreen is set to each one's liking. These apps however, will remain in a newly added App Library that stores and organizes all of the apps in the appropriate area. Other significant features in the current update include new widgets on the today view area, a new Siri interface and message improvements. As an iPhone owner, these new improvements have changed the path of navigation through the Iphone and set the bar high for the next update to come.
For the messages, Iphone now allows access to be able to pin up to 9 conversations. Pinning these conversations will keep them at the top of the message stack. Having this as an option assists users to locate the important people that they contact more often. Widgets are now available offering more information and varying in a plethora of different sizes. This means that apps and other features on the Iphone could take up less room on home screens or can increase the size of them if it's found to be too small. This feature also allows you to swipe through commonly used widgets, so it is easier to navigate through widgets used frequently.
Siri now does not take up the entirety of the screen, but instead is placed at a decently sized measure at the bottom of the screen. Siri is now capable of translating written and spoken languages. This feature also does not require internet connection, so you are able to use it anywhere. Siri now has the ability to send audio messages through iMessage and allows dictation processing for greater privacy and control. Another eye-catching feature is the picture by picture feature that is super useful as it allows users to view more than one video at a time. This can be an advantage when watching a video but needing to go onto another app. By using this feature to minimize the video, it will help to create an easier way of working.
The extra features that come from this update are impressing Iphone users and even are persuading android users to switch to apple. Most would agree this update is worth downloading and can see a significant upgrade from the last iOS. Many have already fallen in love with the update, and you should too!
About the Writer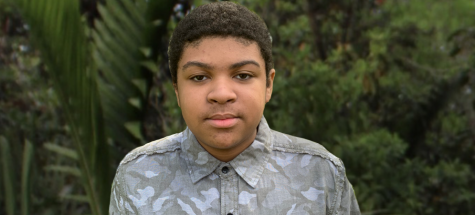 Jaden Torres, Staff Writer
Jaden Torres is a member of the Prowl as a staff writer and a freshman at Coral Glades. Torres wants to be able to achieve his goals of passing through...