Podcast Pandemonium
Amidst COVID-19 lockdown, three friends start up a podcast
During quarantine it is easy to get stuck in a rut and lose those creative juices, but some have utilized this time to create and grow. One Jaguar used this time to start a podcast with his two friends, where they discuss anything from music to current events to personal anecdotes.
Junior, Steven Arroyave co-hosts the podcast with his two friends, Danny Moran and Steven Gallego. Their close bond is transparent through their conversations and dynamic on the podcast. With each episode, you begin to understand their relationship more and see how different each member is. They blend well together while each one offers a different perspective to form an interesting and unique podcast. The group is authentic and works to convey the same dynamic that they have off air, in the podcast as well. The name of the podcast echoes the central idea and dynamic of the podcast. Small Circle aims to bring their audience into their tight bond and camaraderie to make others feel a part of their small circle.
The group attempts to post content every other week. Each episode ranges from 50 minutes to an hour and 20 minutes. They use social media to their advantage. Through an Instagram and TikTok account they keep viewers engaged and up to date on the newest episode arrival dates and try to get insight into what the listeners would like to see on the next episode. One example is that they have started collecting questions from their personal and Small Circle Podcast social media accounts to ask and answer questions on their question segment.
The group is constantly trying to better their podcast by adding in new segments, making the viewers feel more engaged. Having their first featured guest on the podcast added to the excitement of their audience and pulled more listens in. They started off with some obstacles regarding the editing process and sound. When the podcast first began in June, they only had one microphone and recorded through an old iPad and edited the podcast via iMovie on their phones.
The group often finds themselves struggling with transportation because Moran lives in Miami and the other two co-hosts live in Coral Springs. As none of them have their own vehicles, their parents must drive them to whichever member's house is available at the time. Now that they have grown and have started to improve the quality of the podcast, they now have four mics; three for themselves and one for their future guests. They also have a mixer, four headphones, a tripod, and are currently planning on purchasing a camera and lighting equipment.
"
"We are just enjoying ourselves and constantly figuring out the content we want to put out and only hope our viewers enjoy it as well.""
— Small Circle Members
The group is extremely happy with how well their podcast has gone so far. With 36 subscribers and an average of about 80 views per video and a total of 553 views, they are excited to continue growing. Their podcast's main platform is YouTube, but they can also be found on Spotify and Apple Podcasts. The group aspires to make the podcast eventually turn into a brand and empire where they can all use it to advertise their own personal projects whether that be music or film. The group has high hopes for where this will take them in the future as they grow and improve and gain more of a following. Over time, they hope to bring a large audience into their Small Circle.
About the Writer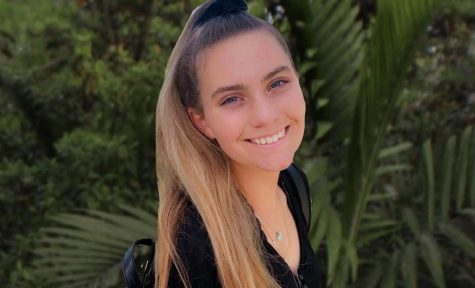 Makayla Joyce, Entertainment Editor
Makayla Joyce is a junior and the Entertainment Editor for The Prowl. She has been a part of The prowl for three years and was the Secretary of the Newspaper...