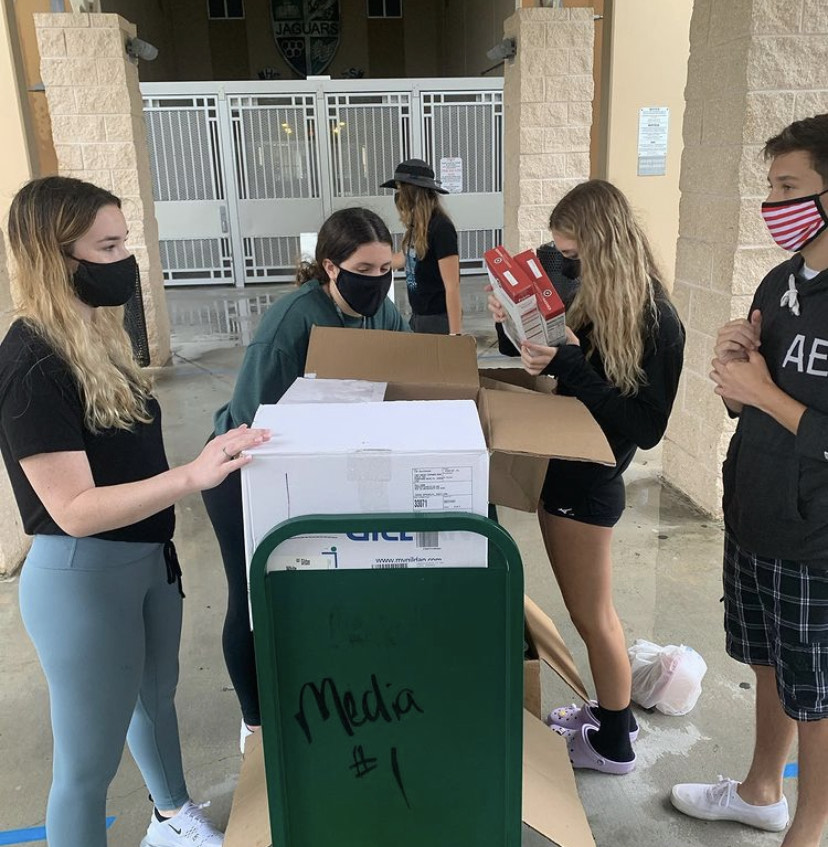 Photo Credits: Jacobo Gallego
During the month of November, one of the most prominent activity schools and other organizations participate in are harvest drives, and hosted one at the entrance of the school. In this season of thankfulness and blessings, many clubs and students have come together to offer canned food, packaged food, and anything that could be sent, as these items would go to the less fortunate. 
The Coral Glades Harvest Drive ran from Nov. 5, 2020, through Nov. 12, 2020. Just like other local drives, these food donations were primarily used to help families for the Thanksgiving season. It is extremely unfortunate that countless families spend Thanksgiving without a sufficient and loving meal, as these drives give these families a holiday season they will never forget. Some Coral Glades Clubs gathered together and asked their members to donate, while Student Government received the donations at the main car line. The donation process was altered this year due to the pandemic, but following social distancing guidelines club members were overjoyed to see how much food they had collected.  
In order to encourage more people to donate, many clubs from Coral Glades offered extra perks for donating. Key Club gave their member's service hours for donating, as one hour was given if a member donated two items, or two hours for four items. This incentive brought more students to donate what they had to offer, knowing they would receive hours for their donations, but also sparked them to truly understand why Coral Glades does harvest drives.
The clubs that participated in the harvest drive asked their members for specific items. Journalism asked their students for rice, while Key Club asked their members for canned corn and boxed mashed potatoes. Student government delivered all types of foods, such as gravy, mac, and cheese, or other canned goods. With such variety, families were offered a well-balanced meal for the holidays.
All goods and donations were collected in boxes. Throughout the thirty-minute time frame, many boxes were filled up with food. Between all of the clubs that were willing to participate, it is safe to assume that families are spending the holidays in a great way. With the pandemic continuing throughout 2020, many families struggle to collect the necessary funds to live. It's important to support people of all ages during times like these. Many simply try to focus more on the aspects of bills, child support, and more. After the harvest drive, people will finally receive a well-deserved meal, all while giving thanks to the people around them.