The Importance of "Man on the Moon lll"
Music artist Kid Cudi returns with his seventh studio album
On Dec. 11, 2020, the famous music artist Kid Cudi dropped his seventh studio album to the public. Kid Cudi is a singer, songwriter, and part-rapper that has been dropping music since 2009. Throughout his career, he has dropped a few collaboration albums with other artists, such as "KIDS SEE GHOSTS" with Kanye West. The music artist Kanye West has always been a mentor for Kid Cudi, as he was a big inspiration. During the 2010's, Kanye and Cudi have seen a back and forth relationship due to management and spotlight disagreements. They finally came to terms in 2016 for Kanye's tour, and reunited to make an album. Kid Cudi has dropped some small projects in the middle of his discography (such as "Indicud"), but none of them have been as infamous as his "Man On the Moon" trilogy.
"Man On the Moon lll: The Chosen" is the third album in this series. In 2009, he released "Man On the Moon: The End of Day", and in 2010, he released "Man On the Moon ll: The Legend of Mr. Rager".  The first album had a great emotional feeling, with standout songs such as "Day 'n' Nite." The second album was much better mastered, and Kid Cudi's ideas were better expressed on songs such as "Erase Me". Fans have been waiting for a decade, as he returns back to his original style. The album is filled with moody, emotional, and introspective songs, as each track has the capable measure of telling a story. The album also has 18 tracks, with it ranging 58 minutes. "Beautiful Trip" kicks off the album, providing listeners with a beautiful instrumental, which would later appear into the album on track 12, "Sept. 16". 
"After listening to Kid Cudi's newest album numerous times, I believe that it is a great album," junior Brynan Fonseca said. "Certainly one of his best albums he has worked on and released."
Some songs on "Man On the Moon lll" highlight the past misfortune life of Kid Cudi. The song "Damaged" recalls Kid Cudi's damaged mindset, due to much partying and an unhealthy fast life. Later on, track 13 "The Void" tells the tale of Kid Cudi's past mental health. He describes the desperate feeling of trying to leave this state, and returning to a well balanced lifestyle.
The song "Show Out" is a dedication to the viral sound of UK drill rap. The song features British artist Skepta, and the posthumous New York rapper, Pop Smoke. Kid Cudi gives a great arrangement of vocals, while Skepta and Pop Smoke trade bars on victory and achievement. 
Kid Cudi also recalls present relationships on the album. The song "Sept. 16" refers to the birthday of his girlfriend, Raquel Deriane. Lyrics in the track detail his true love, as he worships her honesty and love that she gives to Cudi.
The last track, "Lord I Know" concludes the album with a great message. Kid Cudi recalls his mistakes and obstacles he has witnessed throughout his life. The song gives a great illusive conclusion, which makes others feel in a sensational way. Other artists came together to be featured on other songs, such as rapper Trippie Redd, and alternative artist Phoebe Bridgers.
Like Kid Cudi's other albums, "Man On the Moon lll" also follows the same sound. Taking a look at the 2009 and 2020 versions of "Man On the Moon", it is very noticeable that the albums have almost the same tone. It is important to note this considering the impeccable influence Kid Cudi has had on younger artists. Nowadays, many of the younger talents will also release sad, moody songs that reflect a Kid Cudi sound. Artists such as Jhene Aiko and Travis Scott have publicly stated their appreciation for Kid Cudi's influence.
When the album first debuted, it peaked at number two on the Billboard 200. The album had also sold an impressive 144,000 units in the first week. While many fans gather to wait for a new Kid Cudi release, he plans to release a small collection of throwaways in 2021, that did not make it into the original album. Until then, music fans should see the beautiful sound Kid Cudi gives, and how "Man On the Moon lll" will affect the future audience.
About the Writer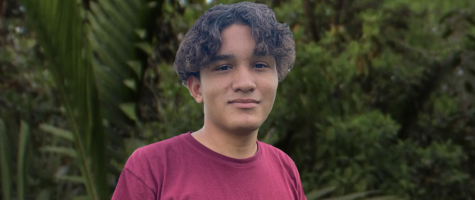 Jacobo Gallego, Sports Editor


Jacobo Gallego is a Sophomore and the Sports Section Editor for Journalism at Coral Glades High School, and was the Content Editor in his Freshman...