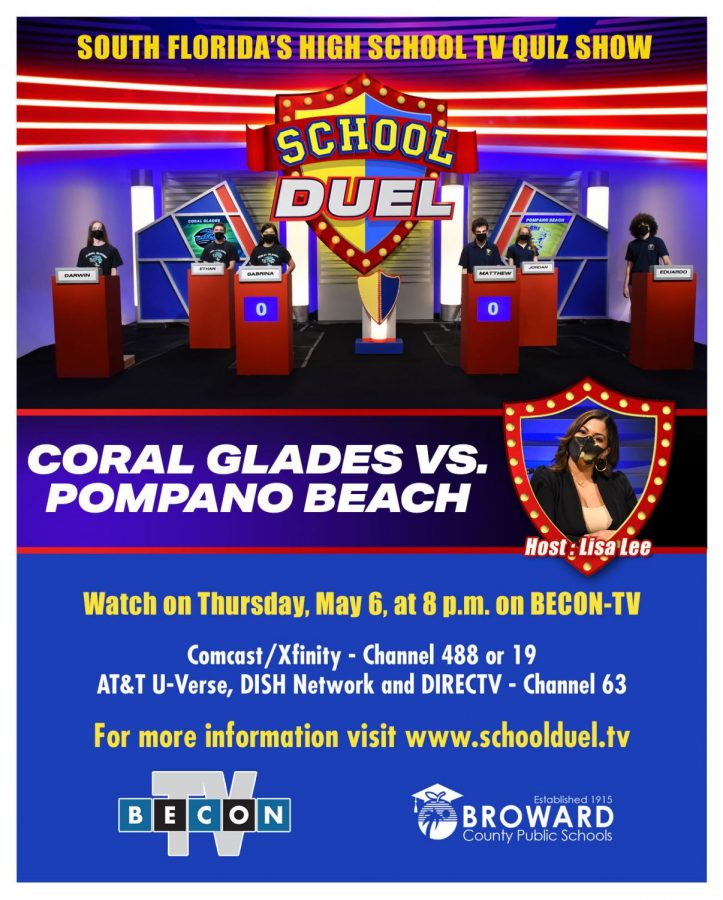 Beginning Thursday, March 4, 2021, at 8 p.m. BECON-TV 
launches its 11th season of School Duel, presented by sponsors  Chick-fil-A and BrightStar Credit Union.  School Duel is an exciting academic quiz show, designed to  reward and highlight intellectual student talent in South Florida's  high schools, and serve as a positive educational tool for  students and teachers. 
This year's season features 14 Broward County Public Schools teams, including McArthur High School, Everglades High  School, Sheridan Technical High School, Cooper City High School, Miramar High School, West Broward High School,  Cypress Bay High School, Western High School, Marjory Stoneman Douglas High School, Monarch High School, Boyd  Anderson High School, McFatter High School, Coral Glades High School and Pompano Beach High School. Schools from  Palm Beach and Miami-Dade counties also joined this year's season of School Duel.  
To accommodate COVID-19 safety guidelines while keeping the show fun, the game structure has been modified from a single-elimination tournament with an overall champion, to a total of 10 individual matches and winners. 
The players on the winning teams will each receive Chick-Fil-A vouchers for an entire year, and the runner-up teams will  receive prizes from sponsors, including cash awards for each student, courtesy of BrightStar Credit Union and Publix  Supermarkets. All participants receive School Duel trophies from EDCO Awards & Specialties. 
School Duel airs at 8 p.m. every Thursday, starting March 4, 2021, on BECON-TV, through the last show on May 6, 2021.  Each week's episode is rebroadcasted at 10 a.m. on Saturday and Sunday.  
BECON-TV reaches homes throughout Broward, Miami-Dade and Palm Beach counties via Xfinity/Comcast Cable HD  (channel 488 or 19), DISH Network, DIRECTV and AT&TU-Verse (channel 63). 
For more information on School Duel, visit www.schoolduel.tv and for an official schedule and tournament bracket, visit  www.schoolduel.tv/schedule. 
Credit to: Broward County Public Schools