Blinding Lights at the Raymond James Stadium
The Weeknds performance left Fans Calling Out his Name
Feb. 7  , the 55th  Super Bowl took place between Kansas City Chiefs and Tampa Bay Buccaneers , Young versus Old , Mahomes versus Brady , ultimately leading to a seventh Superbowl win for Tom Brady prior to New England Patriots Quarterback , giving the Tampa Bay Buccaneers their second Super Bowl win in 18 years since their first. However, the game isn't the only thing people are talking about. Social media blew up talking and gossiping about this year's halftime show performance headlined by The Weeknd.
 Everyone has their own opinions about his performance. Some believe it was a touchdown while others believed it was a botched play. With the lack of entertainment performances this past year and a lackluster first half, a lot was riding on this performance. Viewers had high expectations for his performance due to the venue, totalling around seven million dollars, and social media publicity, considering he promoted and "hyped up" his new album, "After Hours," leading up to his halftime show performance. Prior to the show, The Weeknd hadn't been seen publicly for a year without a fake bloodied, bandaged, or mutilated face. This led viewers to believe that he had some crazy things in store based off of these outrageous stunts he was doing without any explanation. Some fans believed that he underwent several cosmetic surgeries, but it was all a part of a character to show how the world of Hollywood can change a person. Over the years the Superbowl has become more than just the game. The halftime performance has led viewers to add to the hype of the performance with prop bets , including over/under on outfit changes , number of songs , or featured performers. 
 Covid-19 has affected many live performances but The Weeknd has kept a positive mindset during these hard times. He decided to not focus on what he can't do because of the pandemic but look at the opportunities with the card he has been dealt. His background performers were seen wearing the bandaged face which allows them to wear face masks without taking away from the performance. His performance was definitely unique by starting off his performance with him in the stand next to the Raymond James Stadium pirate ship , slowly making his way down to the field for his big finish with no stage showing the background dancers all socially distant. There were also no surprise special quests in his performance. 
 The Weeknd played some of his big songs from past albums and his new album After Hours with "Call Out My Name,"  "Starboy," "The Hills," "Can't Feel My Face,"  "I Feel It Coming,"  "Save Your Tears,"  "Earned It" "House of Balloons," and ended it off his big hit song "Blinding Lights."
About the Writer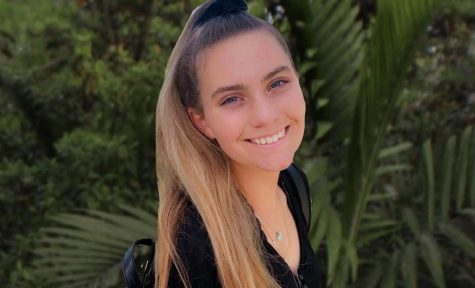 Makayla Joyce, Entertainment Editor
Makayla Joyce is a junior and the Entertainment Editor for The Prowl. She has been a part of The prowl for three years and was the Secretary of the Newspaper...