Acing their season
Tennis team keeps it fun and that's the key to their success
Although there's a lot of back and forth in tennis, that doesn't hold true for our Jaguars' tennis season.  The ball was very much in the Jaguars' court and their record reflects that. This was the tennis team's best season to date. Much like many teams this year, they had their fair share of struggles. Before Covid shutdowns even happened, the team was fading away. Coach Gabriel was concerned that he would lose the team and their budget. In the beginning of the season, they only had three boys and two girls. As of right now, the team has eight boys and ten girls. Another obstacle they faced was Covid itself, as one of the teammates tested positive for Covid. This unfortunate event led to the team missing the ability to play three games, which would have been against St. Thomas, Taravella, and Pompano High. Another obstacle many tennis teams face is the lack of accessibility, as well as finding students who play tennis, and those that are willing to play for the team. But this year, they had the best turnout of players ever. The team was filled with players who have been playing for some time, as well as those who wanted to learn how to play. Coach Gabriel's biggest goal for the team was not success, but rather to have fun and keep tennis alive at Coral Glades, as the team was in jeopardy of falling apart if they did not have sufficient players. Gabriel is a firm believer that having fun is the top priority, and it  will lead to great success. This mindset is what gave them the ability to go into Districts. Coach Gabriel was very impressed with his players who played with their heart and always gave it their best effort, even when the teams they were playing were very good. Gabriel also loved how the team came together and were so close at the end of the season and very supportive of each other.
In the spirit of keeping things fun, Seniors Victor Ferraguez and Ethan Darawalla showed up to their last match against Monarch High in jeans. This was just one way the team and coach kept things fun and entertaining especially since it was the seniors' last regular game before Districts. 
The best way to see the team's camaraderie and spirit that these players have is by watching them play or hearing the kind words they have about each other as well as the overall team. 
Senior Jillian Edrich said that "Covid brought us closer together as a team as we had to schedule practices and motivate each other as one unit." Jillian's favorite part was Districts, considering that they were all able to support each other during matches and even came together during doubles to put up a good fight against the other schools.
Senior Ethan Daruwalla said "The best part of tennis was the friendships since I was able to  play doubles with my best friend Victor and this helped us work together to have fun and win." 
Senior Victor Ferraquez said "I'm really happy that I got to participate in this year's tennis season and enjoyed the camaraderie that the team had despite the ongoing pandemic. Working against the odds, we all got to play great games and overall did better than expected even in district competition." Ferraguez hopes that next year's team will continue the great work and wishes them the best of luck. 
Coach Gabriel has high hopes for next year, even though he is losing some amazing senior players. He hopes to continue to keep tennis fun for students and hopes they treat practices and games as a way to relieve stress from school and have fun on and off the court. Coach Gabriel's key to success this year was having fun. Overall, the tennis team is here to stay and hopes to continue bringing success and fun to the courts.
About the Writer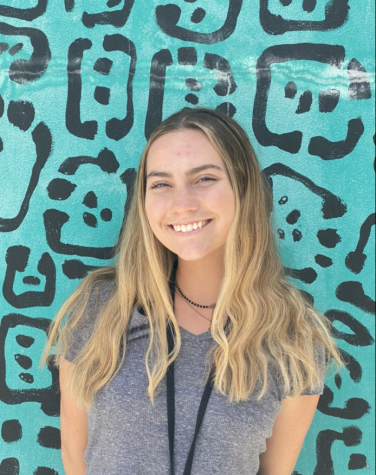 Makayla Joyce, Co -editor in Chief

Name: Makayla Joyce
Grade: 12
School club/Sports involvement: DECA, Newspaper club, NEHS, STEM, IEA Equestrian
Fun Fact: I have been riding...