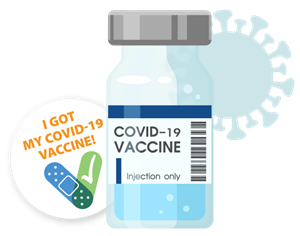 Coronavirus has been a problem in Florida since March 1st of 2020. Ever since then we have been in a total mess trying to recover from the spread of the virus. Many stores shut down, many people getting tested regularly, having to quarantine for months, and there have been an overwhelming amount of deaths all due to the virus.
Around the end of April, COVID-19 vaccines were available to children who were 13-18 years old. In order to get this vaccine under 18, children need a parent or guardian. Those would get their first shot, wait two weeks, and then go back to get their second shot. "So the vaccine made my arm very sore but the next day I was perfectly fine. The second shot made me super tired, sore, and feeling like I was sick. Even Though there were some side effects, I'm very happy I got vaccinated. I encourage many others to get it too," said sophomore Allyssa Milian . Once they wait two weeks after their second shot, the vaccine claims to be completely activated. "I actually have a really bad phobia of needles, so getting the vaccine was pretty nerve wrecking. But at the end of the day, I'm glad I was able to get it. The first dose didn't hit me that bad. I just couldn't move my arm for about two days,"  stated  sophomore Sophia Herrera. This helped reduce the number of COVID cases while allowing more people to go out and stop quarantining.
Vaccination locations are available around all of Florida, and there is even one right next to our campus. Doctors offices that were closed earlier this year are now open, allowing for other people to get the vaccine now if they couldn't get it earlier.
There are many benefits that come with getting the COVID-19 vaccine, including being more protected from reacting negatively to the virus, limiting some risk of getting COVID-19, and limiting the risk of giving it off to others. All of these are extremely beneficial to not only you, but the health of others around you and in your community.
Even if you do not believe that the vaccine comes with benefits, or believe in other conspiracies about it, one does not have to get the vaccine because it is completely by choice.