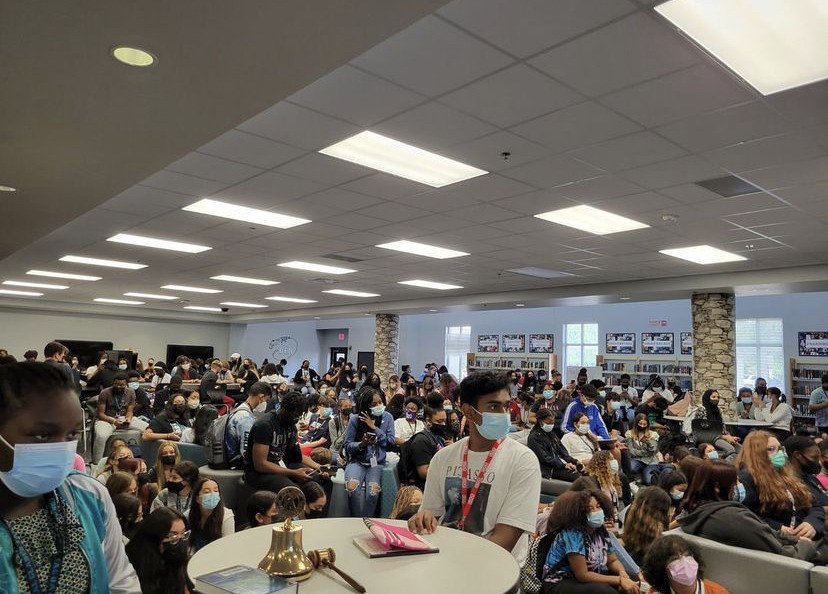 Key Club, one of the school's biggest clubs, is an international, student-led, organization that focuses on leadership and giving back to the community. Key Club here at our school is run by Mrs. Brissett and Mrs. Lehrman. It's a great way to earn service hours, help your community, and make friends along the way. Key Club also gives out great opportunities to students. For example, students can gain leadership skills, study-abroad opportunities, guidance, college scholarships, and more. 
On Tuesday, September 14th, Key Club hosted their first meeting of the year in the den. By the beginning of the meeting, the den was absolutely packed with students eager to join the club. Mrs. Brissett, the head of Key club, stated, "This year already we've only had one meeting and well over 250 kids attended." Key Club is actually the school's biggest club that isn't attached to a class (other clubs such as HOSA have classes that go along with the program- for example, electro cardio and allied health)"
Shortly after the meeting began, the officers introduced themselves. They stated who they are and what their position is responsible for. They then explained to the students the purpose of the club and a general idea of what they will be doing throughout the year. An agenda was handed out virtually with a list of other events they will be doing this month. These events include:
– A Halloween party 
– An arts and crafts project for teacher appreciation 
– KCKC (an opportunity to learn leadership skills and more information about key club)
More general information was given out such as how to sign up for their Remind, and what teachers are in charge of the program.
After the meeting, students were given the opportunity to earn an hour of service by staying after to participate in a school-wide clean up. They were instructed to get in groups of three, and were handed gloves and bags. Students walked around the campus cleaning up small bits of trash like gum wrappers. "Over a hundred kids participated in the school-wide clean up," Brissett said. While one student's bag of maybe five wrappers didn't seem like much, together the club cleaned the campus up nicely and made sure there were no bits of trash left behind. Events such as this are an example of what Key Club does. 
Mrs. Brissett believes that this year will be a very successful one for Key Club. "Already this year has been very different compared to last year. Last year I did view it as a successful year because we had so many projects, but it was all done online through teams- we weren't able to fundraise at all for any charities as a result," Brissett said. This year however has been completely different as students show enthusiasm to participate in and join Key Club. It is apparent that kids want to get out and volunteer." she said. By the success of the first meeting, it is easy to tell that this year will be a great year for Key Club. "Already, I think that this is going to be a big year for Key Club."