New Shows To Watch
There are always new shows to watch, whether it's on Netflix, Hulu, Amazon prime, or even Disney Plus. One new nostalgic show is the iCarly reboot. This hit 2000's show was all about Carly Shay, a girl who lives with her older brother and is hilarious when with her friends. They created a web show and named it iCarly. The show started in 2007 and sadly ended in 2012. Jerry Trainor, Miranda Cosgrove, and Nathan Kress all return to the present-day comedically series. The new plot of this throwback is about Carly Shay (Miranda Cosgrove) and her friends who are navigating work, love, and their family. Carly has completed college and has become very successful in life. She decided to restart the web show in the pilot episode. It only airs on Paramount+ when you have a subscription. Many have positive feedback about this show, similar to Isabelle Noriega who stated, "I think that it was really funny, and it was like reliving my childhood." Bringing this show back was something that no one expected. When doing a new version of this show, it also came with a new age rating. It used to be PG and now it is rated TV-14 because of cursing and more adult storylines. Besides that, I believe that you will get a sentimental feel from watching this brand new iCarly reboot.
Another show that is new and popular is called Squid Game. It has only been out for somewhat of two weeks now and this Korean survival drama is supposedly on track to "become Netflix's biggest show". This nine-episode hit is about a group of individuals that are all in debt and are playing kids games to win millions. When one loses or "doesn't play the game correctly", they pay at a deadly cost. This TV show resembles Hunger Games in a way. So, "people who like suspense and horror…", according to Arianna Câmara should be interested in this show. When asked what could've made the show better, the only thing she had to say was "a season two"! One warning is that there is lots of blood and cursing, most websites say it's appropriate for 15-year-olds or older. It's also voiced in Korean; you can always change the voices to English. If you'd like to watch this cinematic thriller show, head to Netflix and enjoy the cinematic masterpiece that is called Squid Game.
Leave a Comment
About the Contributor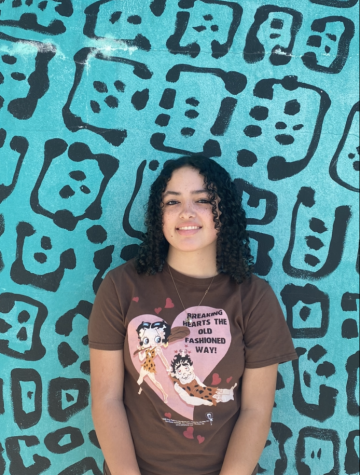 Loralei Milan

Name: Loralei Milan
Grade: 9
School clubs/Sports involvement: Soccer, Girl Up, Newspaper
Fun Fact: I was named after a TV show.