Art Club Ambition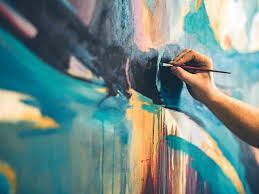 What makes the Coral Glades Art club more than just a "drawing" club?
Art is like the world; it is full of diversity. It's not often you see schools share this appreciation of artistic expression. CGHS's Art club provides a safe space for students with those driven creative passions. A place where someone doesn't have to feel self-conscious if people are looking at their work, a place where they can feel inspired and take notes from being surrounded by a bunch of other young artists in the same position they are. 
There is a variety of clubs that schools offer to their students, with the art club only being one of many. Nevertheless, what sets the art club apart from all the others? CGHS Art Club President, Zachary Tenn Yuk, grade 12 states "Art club really unique is that we like to focus on creativity and helping our members to be creative as possible while also helping to make a community impact. I think using creativity is one of the best ways to get people involved and actually make a difference in the world." The staff wants their members to hone their skills and make their work available to everyone throughout the school, while at the same time making sure whatever they do isn't tedious and that it is a genuinely interesting activity.

Furthermore, what's the point of the art club? Yes, it has already been discussed. However, what I mean is, what are the Art club's main objectives it aims to achieve? Luciano Alzate, grade 10, says "Obviously we want to have fun, you don't go anywhere if you're not driven. What I have heard from people who have been in Art club and my experience with art in general is it's just a safe space where you can just feel free to express yourself however you wish and however you want and I think in creating that safe space, you allow a lot of the amazing ideas to flourish." Essentially, one of their main aspirations is to just do you and have fun while doing it. Other objectives are "We aim to promote art, promote artists, and promote art as a tool to help people around the world"-says Zachary Tenn Yuk. To elaborate on what he meant on "help people" was that any way to art can be used to create/do something for others. An example being the different community projects Art club will be doing throughout the course of the year, one being the art club members making construction art of Historical figures to place around CGHS to provide decoration.
The first meeting the club had this year was on September 9th. Over 100 students came over to check it out and the whole room was jam-packed with students that hardly any could squish through the door, but on the second meeting on September 23rd, about half the number of students who arrived at the first meeting left, and the room was stuck with around 60 students. Why did so many leave and why did those who stayed decide to come back? According to Emilie Simmons, grade 10 "If they wanted to stay in the club, they are most likely passionate about what they do in art, which is why they joined the club in the first place. So, if a lot of people end up staying, I'm really happy that they do. But if a lot of people end up leaving because we keep on doing boring stuff every meeting and then a tiny drawing part at the end, then it's kind of understandable." There are at least 3 kinds of people who went to the first meeting, the first being the people who are genuinely passionate about their pursuit of art, the second being the people who just came to support their friends, and the third being the people who just came because they were curious about what is they do in the club. The people who stay in the club, despite all the dull form regulations at the very beginning they had to deal with must mean they're very interested in joining and are serious about it. They can leave at any time they want, no one is stopping them. So, it means something when you see the people who are stuck around.
In conclusion, Art club is all about fun and creative minds working together to positively impact the community and to provide a safe space for people who don't want to feel judged or as if someone was watching them draw, without having to care what other people think of them.
Leave a Comment