No Vaccine Shot, No Jump Shot
Kyrie Irving faces not being able to play for not getting vaccine
Kyrie Irving: former NBA champion, former All-Star M.V.P., and three-time conference champion… this infamous point- guard is known for his insane handles and great playmaking; whether you are from Boston, Cleveland, Brooklyn, or even North Carolina (where Irving attended Duke University) you cannot deny that Kyrie Irving is a key factor when it comes to winning important games in clutch moments, and is willing to do whatever it takes to make sure is team comes out victorious.
As we all know, COVID-19 has affected everyone heavily in different ways, but with the help of the vaccine, things are slowly starting to get back to normal again. When it comes to certain organizations, especially in professional sports, organizations such as the NBA and NFL strongly encourage their athletes to get the vaccine to protect themselves, their teammates, and the fans in the stadium. While the topic of getting the vaccine can be controversial for different reasons, different people have different opinions as to why they decide to take or not to take it.
 Kyrie Irving is one of the few athletes around the league who were (and still is) hesitant to get the COVID vaccine. As a result of his decision, the Brooklyn Nets organization has decided to prohibit Irving from participating in team practices and playing in the pre, and regular season games. Via an article published by CBS Sports, it states: "New York City's vaccine mandate requires everyone to have at least one dose of the COVID-19 vaccine in order to go to restaurants, bars, and in the case of NBA players, use indoor gyms which include Madison Square Garden and Barclays Center, the home of the Knicks and Nets, respectively." However, if/when New York decides to lift their vaccine mandate, Brooklyn Nets head coach, Steve Nash, says he would be more than happy to welcome Irving "back to the club"; until then Irving's playing time has been put on hold, and it is unfortunately costing him and his team a lot.
Leave a Comment
About the Contributor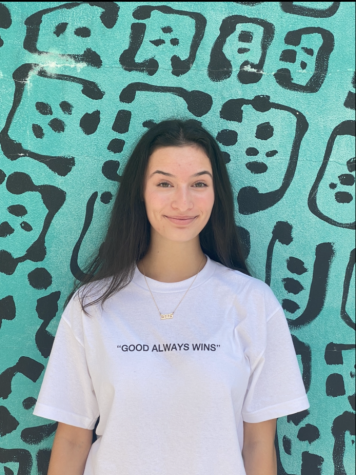 Angelina Martell

Name: Angelina Martell
Grade: 11
School club/Sports involvement: Cheerleading, Boys' Basketball Team Manager, Newspaper
Fun Fact: I have my...