Washington Commanders Take on Creation of New Diverse NFL Team
Football: The lure of the Stars!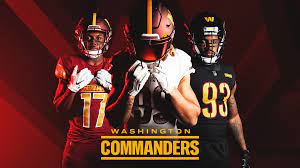 The NFL is known as one of the most precise and dominant channels that offers complete parity within the league. The league not only continues to grow as a team, but as a nation due to their offerings of a diverse team that leads to a greater wealth for everyone. However, the Washington football team is on the go! With the new change in name, from the Washington Footballers to the Commanders, the team has decided to expand once again and give different sports translations into the sport of football. 
Confirmed on the 30th of March 2022, the Washington Entertainment Team is currently recruiting up to 40 new performers to be a part of the NFL. Dancers, gymnastics, break dancers, b-boys, b-girls, and "Beat ya Feet Dancers." One of the most important aspects that coach Jade Kenny is looking for is consistency and command on the field. Being a well-rounded individual can most definitely set the pace for the auditioning environment. 
To complete the audition for potentially joining the Entertainment team, there is a series of pre-audition dances that will take place in March and April from Tuesdays and Thursdays from 6:30-8:30 pm. Those who pass the first round will advance to the final audition round, held on April 23rd and April 24th. 
Many students believe this is a major step in a positive direction regarding sports and diversity. 
"I personally believe that it is a great experience for everybody. Almost every district should try to have diverse personalities to offer, so it gives a higher chance to anyone and when the moment comes. It allows you to see the qualities of each individual, titling it as a well-rounded team. The diversity can only help to bring more support worldwide. Each sport division has their own fans, and in no time people who you have never even thought about are brought into the mix. So people that are interested,  believe in yourself and know there will be a moment that can be established that will bring an even bigger moment than greatness!" Sebastian Castillo, senior, said. 
To conclude, the 2021 clinics will be led by the Entertainment Team Captains including said head coach Kenny. The pre-audition dance clinic will be split into four sessions and session will take place on March 29-30, session two will begin April 5-6, session three will begin April 12-13, and last but not least session four will begin on April 19-20. 
Leave a Comment