Percy Jackson: To A New Generation
On September 11, Disney hosted their annual D23 Expo event. D23 Expo is a huge convention that reveals plans for future projects and events coming to Disney, making it an exciting event for fans who are passionate about their projects. During this year's panel, multiple movies and shows were featured, including Percy Jackson and the Olympians, a TV series adaptation of Rick Riordan's famous book series.
Back in May 2020, Riordan revealed that his book series would be adapted by Disney, and featured as a show on their streaming platform, Disney+. This news excited countless fans from all over the world. While Percy Jackson and the Olympians is an incredibly famous series, having fans from all age groups, it never received proper on-screen representation. Two movies were released in the 2000s, but they disappointed fans with their inaccurate cast and plot. When Rick revealed he'd be closely working with Disney to make the adaptation happen, Percy Jackson fans celebrated the news. Prior to the D23 Expo event, the only content released about the series was the casting of the 3 main characters (Percy Jackson, Annabeth Chase, and Grover Underwood) as well as other minor characters.
The D23 panel caught fans off guard as it had a panel featuring the series, along with a teaser trailer (that promptly gained an insane amount of attention all over social media) and interviews with the main cast. While the teaser was only 53 seconds long, it caused enough commotion to gain 5 million views on youtube and over 275k likes in less than 48 hours. "PERCY JACKSON" trended as #1 in entertainment on Twitter for a whole day. It even gained as much popularity as Marvel trailers that were released, which is shocking considering how new the idea of the adaptation is.
In the teaser trailer, Walker Scobell, who plays Percy, is seen walking through "Camp Half-Blood", the sacred home of demigods. The teaser starts off strong as it begins with the lines, "Look, I didn't want to be a half-blood.", the first lines in the book. A fan-favorite character named Clarisse LaRue was also shown in the trailer. Overall, the teaser exceeded fan expectations and has caused the series to be the talk of the week on social media.
Santiago Herrera, a freshman, says "I first read Percy Jackson in 3rd grade, and I thought it was really good. I remember seeing the movies and being really disappointed by the inaccurate plot and cast, so when it was first announced that Disney was adapting it into a tv series with Rick Riordan, I was really excited. I think the cast is great, the actors are just like their characters. The teaser trailer was really short but I think it was amazing." Mia Rodriguez, a junior, says "The teaser trailer looked really cool. I'm really interested in seeing how the show will turn out."
Leave a Comment
About the Contributor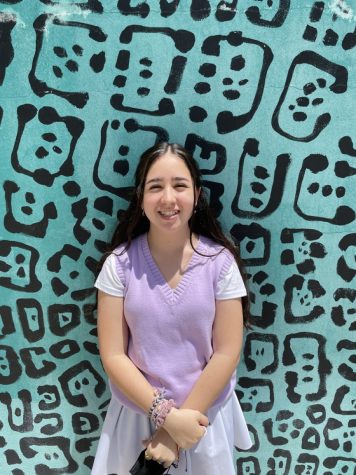 Sophia Herrera

Name: Sophia Herrera
Grade: 11
School Club/Sports involvement: Girl Up, Key Club, Interact, Newspaper
Fun Fact: I play the piano.