Heartstopper Season 2 – Now In Production
On September 22nd, Netflix announced that the second season of Heartstopper was officially in production. Heartstopper is a young adult LGBTQ+ online comic made by Alice Oseman. The story began back in 2016 on an app named Webtoon, where people can upload original comics for the public to view. The comic focuses on the love story and challenges of Charlie and Nick, the main characters, and other topics such as mental health, LGBT+ related issues such as coming out, being accepted, friendship, and more. It's a sweet and sappy love story that immediately gained popularity when it was first released last year. 
Since the first season came out, Hearstopper quickly gained fame and fans immediately petitioned for Netflix to create a second season. A show that originally was thought to barely gain any traction became the center of attention for a whole month. Just barely a month after it was first released, Netflix renewed the show for a second season. 
Auditions for new characters were held, and fans have been given sneak peeks of the new season. Actors from the show have also shared their excitement for the new season of their social media accounts. Topics related to Heartstopper have trended multiple times on social media since the announcement.
Allyssa Milian, a junior, says "I really like Heartstopper, it's a nice show. It has great representation and the story is charming. I'm excited to see how the new season will turn out. I noticed that the first season is a little bit different from the first comic book, so I'm wondering what they will change about season 2. I'd definitely recommend Hearstopper to anyone who is looking for a light-hearted, sweet show." 
Mia Rodriguez, a junior, says "Honestly, Hearstopper isn't really like the shows I usually watch but I still enjoyed it. I never read the comics but I heard about the show and decided to watch it for fun- It turned out to be a nice show. It's crazy that it got renewed just a month after being released, it was a really successful show, which I wasn't expecting. I thought it would get canceled after season 1 since it was barely spoken about before the first release, but people really seemed to like it. I think it's a good show and it deserved to get a second season. I'm excited to see what they do with season 2." Jessica Garvey says "I loved Hearstopper when it came out. It's a really cute show. It's shocking that it did so well after just a season, I'm really excited to see the finished product. I love seeing the behind-the-scenes photos the cast has posted."
Leave a Comment
About the Contributor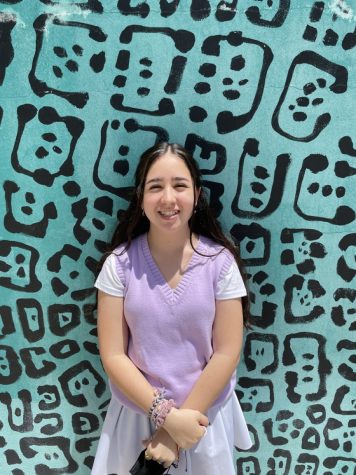 Sophia Herrera

Name: Sophia Herrera
Grade: 11
School Club/Sports involvement: Girl Up, Key Club, Interact, Newspaper
Fun Fact: I play the piano.