"Halloween Ends": A Spooky Sight to See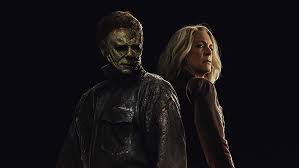 This classic Halloween movie with more than ten different movies ends this Halloween. The Michael Myers movie Halloween movies started back in 1978. And now it has been four years since the last film came out. The first ever movie begins with a little boy who kills his older sister and then kills babysitters later in his life. Michael Myers, or "The Shape," describes the mask he wears when killing. It's been around for some time now. Allyssa Milian, a Junior, talks about growing up with this movie, "It has been a staple movie in my household since I was little. My family and I love Michael Myers movies, and even though they are scary, they hold a special place in my heart because of how much I'veI've grown up with them." The second movie is a continuation of the first, where the second babysitter he tried, Laurie, is being transported to the hospital after supposedly defeating Michael. There are eleven more movies that almost always follow the same process.
The difference between all those movies compared to the one coming out this year is "…this is a more intimate, atmospheric conclusion." says the filmmaker of the movie. He says that there has been an abundance of "slasher" movies throughout the horror movie selections and that he wanted this movie to be different from the others. This movie will also give Laurie Strode'sStrode's storyline, which didn't get much attention in the movie Halloween Kills due to all her injuries from the first entry. 
This movie came out on October 14th, 2022, which gave people lots of time to see this movie before Halloween. It also came out on Peacock, a movie app, the same day because the director wanted everyone to see this familiar face. "We discovered that there are people who want to go to theaters and scream their guts out and other people who want to stay at home and scream their guts out," said Curtis, discussing how the distribution of Halloween Kills influenced the final film. Another aspect of this film is that they already know that this movie's money will skyrocket. There will also not be a post-credits scene since it will be the franchise's last movie.
Leave a Comment