Who Let the Dogs Out: Adopt a Shelter Dog Month!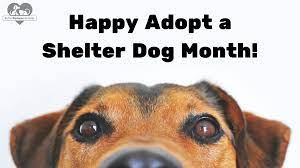 Some time ago, animal shelters did not exist, and there wasn't anywhere for hurt or lost dogs to go. The first woman to create an animal shelter was named Mrs. White; she and a group of around 30 women were a part of a group called the Women's Humane Society. Their group initially advocated for horses because they used to be treated poorly but later moved on to supporting smaller domestic animals like dogs. In 1909 the group raised enough money to open up a small animal hospital. In 1981 Adopt A Dog Month was established, mainly because the number of dogs in shelters was rising.
The purpose of Adopt A Shelter Dog Month is to spread awareness and share the wonders of adopting a dog from the shelter rather than buying one for thousands. It is known to be more rewarding when you adopt a shelter dog. Adopting elderly dogs is also encouraged because they are less likely to find a home and can spend years in a shelter. You can also help by fostering dogs which are just as rewarding as adopting. You get to give them a loving home until they find a permanent one; it is a selfless act.
There are many benefits of adopting/owning a dog, and it can increase your activity level. Owning a dog can get you out of the house more because you can take them on a long walk or to the dog park etc. You will have an excuse to get out of the house. Sometimes people even have dog birthday parties which will cause you and your dog to socialize. Owning a dog can even have biological effects. When you pet a dog, it has a calming effect on people; it stimulates the release of relaxation hormones and lower levels of stress hormones. Owning a dog also guarantees lower heart rates and blood pressure when you pet them. Owning a pet can be very rewarding. They can be great companions you will have for many years.
Leave a Comment
About the Contributor
Jade Mianakian

Name: Jade Mianakian
Grade: 12
School club/Sports involvement: Newspaper
Fun Fact: I love jewelry and I have an abundance of it.