Pelé: An All-Time Fútbol Legend
Recently, Pelé, one of the best soccer players in history passed away at 82. Deemed "The Greatest" by FIFA and nicknamed O Rei ("The King" in Portuguese), Pelé left behind a legacy that no soccer player will ever be able to compete with. He won 3 world cups (the only player to ever do so), was named Athlete of the Century by the International Olympic Committee, and has won other titles and awards. 
"I was so surprised when I heard Pelé passed away," junior Allyssa Milian said. "I think the whole world was really surprised. Pelé was a great person and athlete. I knew he had health issues in the past but I never would've thought he'd pass away anytime soon. I hope his family is doing better and I hope he rests in peace."
For years, Pelé received treatment for cancer and had been reported to struggle with respiratory issues. He had been admitted to the hospital earlier in the week due to his cancer condition worsening and then passing away on December 29th, 2022. Pele's manager, Joe Fraga, confirmed his passing, and the Israelita Albert Einstein Hospital in São Paulo said he passed due to organ failure and colon cancer at 3:27 p.m.
"All that we are is thanks to you. We love you forever. Rest in peace," stated Kely, Pelé's daughter on social media. Brazil mourned for 48 hours, and Pele will be buried in Santos, a city southeast of São Paulo. His family will be hosting a private funeral, and later the public will be able to pay their respects. 
The passing of Pelé has left the world heartbroken as he was an inspiration to many. His story of how he went from barely having enough money to live to become one of the most-paid athletes in the world is inspiring. Pelé was a fair sport and was said to be one of the kindest athletes in history. Famous athletes across the world have shared their thoughts and feelings about Pelé's passing and paid respects, such as FIFA's president Gianni Infantino.
"His legacy is impossible to summarize in words. To his family and friends, to CBF (Brazilian football federation), to Brazil, and to all football fans who loved him so much, I express my sincere condolences," stated Infantino.
"Pelé has been one of my favorite soccer players since I was little. When I heard he passed away, I was in shock. He is definitely one of the most legendary soccer players and athletes in history, no soccer player will ever be able to live up to his legacy," stated junior Mia Rodriguez.
Leave a Comment
About the Contributor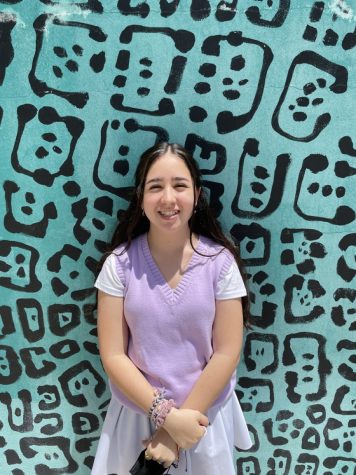 Sophia Herrera

Name: Sophia Herrera
Grade: 11
School Club/Sports involvement: Girl Up, Key Club, Interact, Newspaper
Fun Fact: I play the piano.