New 2023-24 Backpack Policy in Broward Schools Causes Outrage
Broward County Public Schools made an unexpected decision that will go into effect in the 2023-2024 school year: clear backpacks, "ONLY." Without any impact from the parents of the kids going to school, the board abruptly made this choice, and it's getting some backlash. "I think it'll give some sense of security, but I don't like or agree with this idea because it can cause even more chaos. I'm only afraid for my personal items," sophomore Manor Pniel said
Personal items like wallets and keys would be see-through, which could lead to more robbery and stealing on school property. The county announced this rule on May 5th.
"It's really annoying. I have to get a new bag. I've had the same bag for five years," sophomore Ryan Leitner said. His words describe the unethical approach Broward Schools has to this matter.
This new rule will not only cause more problems but also cause students to buy clear backpacks.
"I'm not so sure where the nearest clear backpack store is. Some of the Twitter comments on Broward's post just speak for themselves," Karel Becerra said.
The impact that the parents have is critical to the board-making decisions like this. However, the board randomly enforced the new Florida law with no intention to change it any time soon. Parents had no impact on the board's choice.
Tanner Fay, another student at Coral Glades High had an interesting opinion. "I think this might be a decent idea," said the sophomore, "but it could also be a bad idea because kids can see my stuff through a clear backpack, which can cause all sorts of other issues."
The only exceptions to the rule apply to personal hygiene pouches, thermal food containers inside clear lunch boxes, school-approved sport-specific athletic cases, and school-approved instrument-specific carrying cases for band equipment. But the thing is, a weapon could still be hidden in those "exceptions."
"I just don't understand their logic on this," David Guadron said. "I believe it's an invasion of privacy and restricts the students of the ability to express themselves. I don't like it because my items, like my phone or wallet, are visible to anyone."
Colin Lowry, another sophomore at Coral Glades had an interesting perspective on the matter. "Clear backpacks are mid. They are extra mid and even too mid. Honestly, I believe clear bags will cause more problems. Even though the items are see-through, it's difficult to decipher bags when they all look the same, and what if they are misplaced, then what happens?"
Overall, students across the country have expressed their distaste for the new backpack policy. Regardless, Broward Schools has claimed that the policy will benefit the safety of students across the county.
Leave a Comment
About the Contributor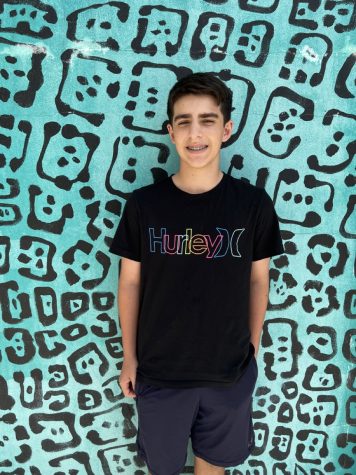 Noah Rosen, Writer

Name: Noah Rosen
Grade: 10
School club/Sports involvement: Golf Team, Newspaper
Fun Fact: I have never tried hot sauce.