The Road to Nationals
Competitive Cheer completes competition at States and prepares for National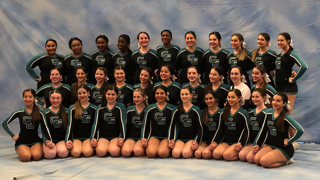 The Jaguars competitive cheerleading team of 2020 has so far had a remarkable season. With high ranking scores, the cheer team has stayed focused and given it all they could at competitions. Facing various challenges throughout their season, the team has suffered girls quitting, teammates getting injured and music not being ready in time for competition. Even with the headache of dealing with every obstacle that comes their way, they still manage to come out on top.
With States around the corner, the girls are practicing intensely and running their routine repeatedly until they hit perfection. The cheerleaders look forward to this one competition the whole year. Held at the University of Florida,  states is a competition for all the cheerleaders in Florida that compete with their high school to participate. The Lady Jags won States the past three years in a row and are hoping for a fourth victory. Despite the rush to prepare for States, the team also looks forward to the National competition. 
The UCA National High School Cheerleading Championship proves the most elite high school level cheerleading competition in America. Held at the Walt Disney World Resort in Orlando, this competition appears on television stations  ESPN2 and ESPNU to over 100 million homes and 32 countries nationwide each year. For the girls to attend this competition, each cheerleader is responsible for raising $710.00 by the end of January. The Jaguars cheerleading team waited for the opportunity for the past decade, and they finally gained the opportunity to participate in such a prestigious competition.
Coming in first place at States the past three years in a row has proven challenging for the team, but they always manage to beat the odds. Holding the title of a state champ is an immense amount of pressure, and the Lady Jags surely wish to hold their position as the . With States creeping up in 2 weeks the girls are ready to prove that they are capable of making 2020 the 4th in a row to win and come on top at States. Going into Nationals as a first time competitor is nerve racking, because the team is not only competing against a few schools in florida,but they are competing with almost every school in America that goes. 
The girls are hoping that they will be able to raise enough money to be able to go to Nationals this year, so that they will get the chance to showcase their talent to hundreds of teams. The girls on the cheerleading team are determined and know what they want. They have enough motivation to raise the money for Nationals and go there with a proud state of mind. Even if they go and don't win, the girls will still be extremely overjoyed that they made it to the biggest competition for high school cheer in America and got to experience the competition that every cheerleader teams of going to.