Releasing "Rare"
Selena Gomez makes a comeback with the release of her newest album "Rare"
Mega pop star,  Selena Gomez, released her third studio album and shook the world of pop culture. After taking a social media and music release hiatus, Gomez clapped back with a confident, emotional, and raw album, discussing the emotional roller coaster life threw at her for the last 5 years, including battles with depression, anxiety, and even her diagnosis with a chronic systemic autoimmune disease, Lupus, and her life altering kidney transplant surgery in 2017. 
Prior to publicizing her album, Gomez put out several singles like "Fetish," "Bad Liar," and "Back to You" as well as collaborations with Kygo, Cardi B, Charlie Puth, and Gucci Mane. 
Initially, world premiering her come back ballad, "Lose You To Love Me", on Oct. 23, 2019, Gomez touched upon a very vulnerable heartbreak that broke the media, almost as a response to the 2015 single, "Sorry" by ex-boyfriend, Justin Bieber, clearly referenced in the track as she tackled the emotional battle the pop star had to overcome, post their highly publicized split. Lyrics in this tune like the one below highlight this:
"I gave my all and they all know it. You turned me down and now it's showing. Two months you replaced us, like it was easy. You made me think I deserved it, in the thick of healing."
Gomez elaborately placed these lyrics in her single in order to portray the gut wrenching truth as to how her final run with Bieber went back in March of 2019, after the paparazzi spotted the two rekindling. However in May, Bieber openly announced his latest relationship status with model, Hailey Baldwin. Tying back to those lyrics especially. However, despite the odds, the song landed a spot on the Billboard No. 1, for the first time in her musical career.
Following with her song, "Look At Her Now" about her self confidence and growth threw the heartbreak, she sings:
"Of course she was sad, but now she's glad she dodged a bullet. It took a few years to soak up the tears, but look at her now."
Finally, Gomez releases her long anticipated album, "Rare" commemorating the process of resilience and self growth of thirteen songs, through a relative dance anthem. Transitioning from the vulnerable heartbreak that was expressed in "Lose You to Love Me," Gomez sings in "Dance Again" what it is like to finally start to move on from the pain and to continue to dance through it regardless if the pain remained or not.
Over the years, the singer scoped and needed to determine the range of her vocals, however in this album, she fully grasps it in order to stick to a low and husky tone.
All in all, after following the evolution of Gomez musically and socially, this album deserves all the success it receives, especially after the perseverance through her own personal battles, as well as her exceptional performance of the album, based off the content and vocal range. A definite recommendation because it covers many issues.
Photo Credit: Selenagomez.com
About the Writer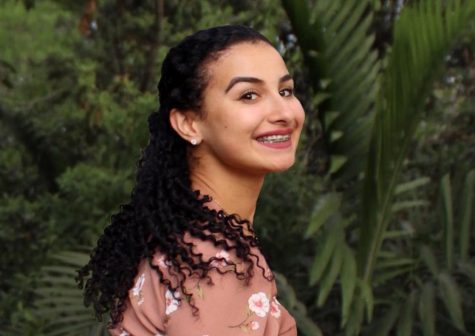 Gloria Greenfield, Editor-In-Chief
Gloria Greenfield is the Editor-in-Chief and President for The Prowl newspaper. She has fulfilled many roles with the program such as Publicity and Business...