Not Your Normal Commute
Personal accounts of students as they make way with the new method of learning
COVID-19 has had many unforeseen challenges and has left many Jaguars constantly adapting to new changes. Virtual learning has been one of the many adaptations students everywhere have had to face. Students attend class as usual, but this time through a screen on Microsoft Teams. You are able to see many student's and teachers' homes and get an inside look into their home life. Occasionally, you will hear a dog barking or catch a surprise appearance in the background. Some Jaguars, however, have a unique work-from-home setup that presents new challenges.
Samantha Brickman's, 11th grade, latest schedule requires balancing school and taking care of her four-year-old sister, Payten.
"It isn't always easy balancing the two, but she keeps me on my toes and makes my day even more interesting. She's taught me to have fun while still focusing on school," junior Samantha Brickman said. On top of trying to keep her sister busy, whether that is through coloring or watching her favorite YouTuber 'Ryan's World', she is also preparing Payten for kindergarten. She was supposed to start VPK, but COVID-19 had other plans. With both of Brickman's parents working back in their respective offices and not at home, it is certain that Brickman's day is filled to the brim. She uses her limited lunchtime to quickly feed her sister and herself before putting Payten down for a nap all before the 3rdperiod. Brickman joked that her little sister has already made some unexpected appearances on her Teams' meetings. 
Online learning is difficult, but online teaching poses just as many obstacles. Not only does Erika Luna teach many students at Coral Glades social studies, but she is expecting a baby boy at the end of September, who is certainly getting an early education in economics and geography. Luna works from home and has made quite the setup for herself fully equipped with a whiteboard in her kitchen. Luna has a positive outlook on things and is making online teaching work as best as possible during her pregnancy. Going through a pregnancy is already stressful but doing so during a pandemic and navigating online teaching presents even more challenges. She takes every precaution necessary and doesn't feel the need to leave her house unless it is to see her parents or get essentials.
Many students with big families struggle with Internet issues as parents are working remotely along with their children. One household is Anastasia Del Valle's, an 11thgrade student. She has a family of five, including herself. Her eighth-grade sister, sixth-grade brother, and two parents. This has come with many struggles, such as slow Wi-Fi because of heightened use. Due to this they have invested in an additional Wi-Fi box to help with this issue. "Although I enjoy the extra family time, it definitely creates more distractions", Del Valle said. She also helps her younger siblings with their homework while focusing on her own schoolwork. 
While most teachers have decided to work from home, some teachers, like Drew Goldfinger the DECA teacher, have decided to work on campus. Goldfinger has made this decision because he doesn't have an area at home conducive for teaching. He stated that he feels more comfortable at "The Jungle" because he has school supplies readily available and the DECA classroom is just as much his "home" as anywhere else. Goldfinger says online school makes it difficult to have that same camaraderie and relationship-building atmosphere as the classroom does, but he is trying his best to mirror that online. Although we learn in separate spaces, we must remember that we are all in this together. 
About the Contributor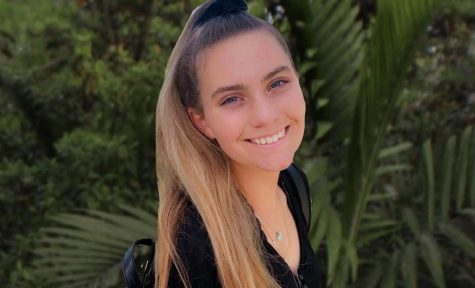 Makayla Joyce, Entertainment Editor
Makayla Joyce is a junior and the Entertainment Editor for The Prowl. She has been a part of The prowl for three years and was the Secretary of the Newspaper...