Theaters Take on "Tenent"
Movie goers cause a spark of interest for newly released thriller movie "Tenant"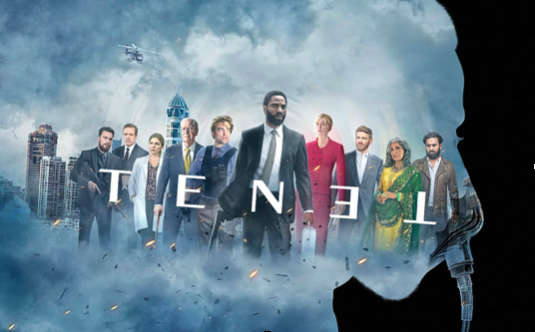 Sept. 3 2020 the movie Tenet arrived in theaters after a trailer dropped,  hooking fans in July. Since then it has been one of the most talked about movies of 2020 taking a position right below "Bad Boys for Life" taking the 4th spot as one of best movies of 2020. Making 251.1 million dollars in its first month of its release. This movie is PG-13 but Parental Discretion is advised because it includes Violence and Mild language. The movie was a lot more than expected based on the trailer.
  The idea of Tenet came from author Christopher Nolan's book, The Secret of Tenet, and was wonderful and beautifully played out by John David Washington (Unnamed Agent/Protagonist), Robert Pattinson (Neil) and Elizabeth Debicki (Kat). The movie follows Unnamed Agent as he bends time trying to stop World War III. The plot twists are never ending. The movie is a lot more than vi   ewers expected; everything is in reverse and forward at different times but also at the same time. It's like watching the same thing twice with a different perspective making it extremely difficult to watch yet very easy to understand. It's one of those movies that give viewers a headache from watching.
  Throughout the movie viewers can see various scenes where there are these random characters but while watching viewers wouldn't think much of it. Like when Kat was talking about her husband's mistress and how she envied her because she was so free while Kat was under his dominance. The viewers later find out that the supposed mistress is future Kat coming to kill her husband who came from the future stopping him from killing his younger self. And it's really astonishing how everything they do is linked and tied. Like how in the beginning when a 
everyone's surprise Neil was the actual mystery man.
Tenet is a really exciting, thrilling and eventful story with hundreds of plot twists, turns, ups and downs. It really is the definition of a Roller Coaster. There is nothing in this movie anyone could have predicted and nothing someone could have ever guessed. This movie is like nothing anyone has ever seen before. It was so wonderfully played and allows all the viewers questions to be answered as they watch in shock.