Remembering Ruth Bader Ginsburg
A recap of the life of Supreme Court Judge Ruth Bader Ginsburg
Sept. 18, 2020, the world lost an independent woman, a true hero Ruth Bader Ginsburg. Ginsburg inspired generations of women to achieve the unthinkable. She knew exactly what she wanted in life: not to pursue her own desires, but to create a society that would be equal for all. Born Mar. 15, 1933, and raised in Brooklyn, New York, she did not have the slightest idea of what her future would entail. 

 As Ginsburg neared adulthood, she went on to study at Cornell University. After graduating on top of her class, she put a pause on her education to start a family of her own. Once settled, she went back to college and enrolled in Harvard Law to pursue law. Unfortunately, due to the gender based discrimination at the time, after she graduated top of her class in 1959, Ginsburg was still not offered a job as a lawyer she didn't let that stop her. Ruth Bader Ginsburg let the anger become fuel, as she later went on to fight gender discrimination. She it made a point to let the silenced be heard and rallied for both women and men that faced discrimination in their daily lives. She led the Women's Rights Project of the American Civil Liberties that would not only change her life, but would alter the course for women's rights for the next generations to come.  

Ginsburg continued her journey as a Women's Rights activist fighting and winning arguments against the Supreme Court. This inspired countless women and even men to take a stand and fight for equality in their work environment, in their homes, in sports, and in school settings. Although she is no longer here with us she still continues to inspire women and men of all ages. Ginsburg provided a voice for the discriminated across the nation, she gave people hope for a better future and would soon realize the opportunity this fight would lead her too.

"

"Ruth Bader Ginsburg inspired me to become a strong woman. To realize that all human beings are equal, and that although the world might not realize that equality; we can always fight to change it."

— Senior Alex Hernandez

,

After decades of Ginsburg proving a pivotal role in ending discrimination her career had finally taken the direction she had worked towards her whole life. Aug. 10, 1993, Ruth Bader Ginsburg was appointed by Bill Clinton to serve on the Supreme Court of the United States. She became the second female to serve on the Supreme Court and she would continue to fight for equality. Ginsberg left her mark on the world, uplifted women, and fought strong and diligently for decades selflessly to achieve equality for everyone.

"

"I think that it is important to learn about Ruth Bader Ginsburg because she was a co-founder of the Women's Rights Project that paved the way for a lot of the progress that was soon to follow in the Women's Rights Movement of the 1970""

— Coral Glades Women Studies teacher Angela Andriesse

,   

Ginsburg has impacted millions of ladies, especially the youth. When young students learn about Ginsburg and her passion for creating an equal world it gives young ladies a sense of belonging and courage to get the job as a lawyer, or get the job as engineer because women are just as capable of achieving excellence as men are.

 Ruth Bader Ginsburg has made a change in history, since first being denied a position as a lawyer. She knew her potential, she realized how unfair women were getting treated just because of the expected vulnerability. Gender discrimination was no match for what she had in store. Ginsburg was always ready to fight for equality head on and was sure she would end with a win. Her  intentions were not to claim fame, but to claim justice for all lives and for the generations to come. Ruth Bader Ginsburg will be greatly missed, but never forgotten. 
About the Contributor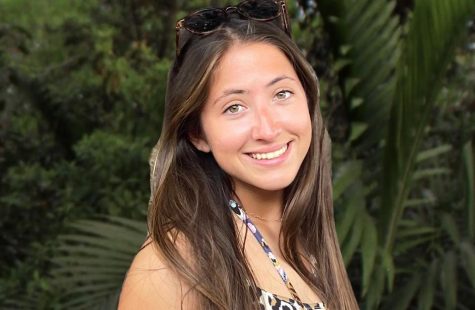 Angelique Bergamini, Features Editor
Angelique Bergamini is a senior at Coral Glades. Bergamini is the Feature's Editor for The Prowl. She aspires to continue her journalism career in college...